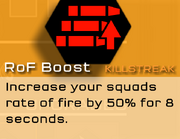 RoF Boost (Rate of fire boost) is a killstreak used by the Gunslinger class.
Effect
Just like Critical boost, this killstreak increases offensive power of the team. For 8 seconds, rate of fire is increased for every soldier for 50%. This effect works best for soldiers who use duals, sniper rifles or one shot rifles because they normally have low rate of fire.
Use RoF boost when your squad is attacking many soldiers.
Calamity uses this killstreak.